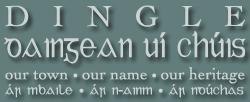 Dingle: Our Town - Our Name - Our Heritage
DINGLE DAINGEAN UI CHUIS.
If you would like more information about the Dingle peninsula, please visit the Dingle Peninsula Web Site.


All the Dingle dangles over whether it's An Daingean
Sunday Independent (Dingle in the News)
8/20/2006
AT THIS stage I'm slightly fed up with the An Daingean/Dingle dispute - it's dragged on too long, and every time I write about it poor Eamon O Cuiv's people think I'm being vindictive towards their minister.

Just because we both went to the same south Co Dublin school (Christian Brothers) doesn't mean I have anything against him. He learned his Gaeilge and I played football…

Anyway the latest instalment of the greatest language saga since the discovery of the Dead Sea Scrolls is that Kerry County Council is going to hold a plebiscite in the second week of October into the name of Dingle/An Daingean.

Our man leaning on the bar in Dick Mac's tells us that 1,140 citizens and 130 shopkeepers living in the greater An Daingean/Dingle area are going to be polled to be asked what the town they live in should be called...

Of course it doesn't matter a whit, or indeed a jot or a tittle (to use legal parlance), what the citizens want to call their town, because the minister has decreed that it is An Daingean, and like the Iron Lady he's not for turning on the issue.
Liam Collins