DINGLE DAINGEAN UÍ CHÚIS ABÚ
DINGLE TOWN OF HIGH RENOWN, IS KNOWN THE WORLD WIDE.
IT LIES BETWEEN THE CONOR PASS , AND THE WILD ATLANTIC TIDE.
EACH STREET AND LANE IT'S PAST PROCLAIM OUR GLORIOUS HISTORY.
OUR COLOURS BRIGHT ARE RED AND WHITE, OUR ROOTS RUNS STRONG AND FREE
WE WELCOME ALL WHO COME TO CALL EACH COLOUR CREED AND RACE
OUR TOURIST GUESTS FROM EAST AND WEST, GIVE DINGLE PRIDE OF PLACE
NOW THEY ARE CONFUSED AND NOT AMUSED THEY CAN'T FIND US ANYMORE
AND IT'S TO OUR COST, THEY WANDER LOST 10 MILES FROM TULLAMORE
CHORUS:
AN T-AIRE O'CUIV, WHY DON'T YOU LEAVE US DINGLE PEOPLE ALONE
AND WE WILL FIGHT FOR WE ARE RIGHT TO SAVE OUR NATIVE HOME.
YOU MAY CHANGE THE NAME OF GALWAY TOWN , DUNGLOE OR TIMBUCKTOO
RAISE YOUR GLASSES HIGH FOR OUR BATTLE CRY IS DAINGEAN UÍ CHÚIS ABÚ
WE DID SURVIVE TILL MARCH '05, SOON AFTER PATRICK'S DAY
THE LANGUAGE ACT, THAT CRUEL PACT, HAD SWEPT OUR NAME AWAY
THROUGH WIND AND RAIN, WE SEARCHED IN VAIN OUR TITLE TO RESTORE.
AND I DO RELATE THE TRAIL LED STRAIGHT TO EAMON O'CUIV'S FRONT DOOR.
NOW O'CUIV TO BLAME FOR THIS GREAT SHAME, BUT HE CAN'T LEGISLATE, TO DRIVE US DOWN OUR FAMOUS TOWN DESERVES A BETTER FATE,
WHEN LAWS AND RULES ARE MADE BY FOOLS, THE LAW IS SURE TO FAIL
AMEND THIS ACT, ITS FLAWED AND CRACKED LET COMMON SENSE PREVAIL.
CHORUS
COIS ABHAINN AN MHEALL DO CHAITHEAS SEAL AGUS AN BILLE NUA LEM'AIS,
AG GABHÁIL DOM SIAR, AG CUR IN IÚIL DON DTÍR, SA CHLÁR AN SAOL Ó DHEAS
MAR TÓGADH UAINN ÁR N-AIMN FAOI RÚN AG AN NDEACHTÓIR DALL'S DUBH
CEIST TEASAÍ NÁ DÉANANN BRÍ AG TEACHT Ó RIALTAS TIUBH.
ANN NÓ AS IS NÍ LE CLEAS SEASFAIMÍD AN FÓD
NA H-OLLÚNA GO LÉIR AG CAINT SAN AER AG COTHÚ (NA) CONSPÓIDE
AN DIABHAL SEO ACHT IS MÓR AN MALLCHT TÁ SÉ AN AM DUIT É A LEASÚ
"SÉ ÁR NDÚBHSHLÁN GO MBEIMÍD SLÁN LE DAINGEAN UÍ CHÚIS ABÚ
CHORUS
MAKE NO MISTAKE WE WILL NOT TAKE, THIS INSULT LYING DOWN.
TO ONE AND ALL, WE NOW DO CALL, DEFEND OUR NOBLE TOWN
LET HISTORY SAY WE SAVED THE DAY WHATS OURS WE MUST RECLAIM
EACH ROAD SIGN MAP, HILL-SIDE TOP WILL CLEARLY SHOW OUR NAME
700 YEARS OF JOY AND TEARS HAS MADE US STRONG AND PROUD
WITH YOUR SUPPORT WE'LL RALLY FORTH , AND RAISE OUR VOICES LOUD
THIS WRONG WE'LL RIGHT BY PLEBISCITE, VICTORY WE'LL SECURE
THE VOTES WE'LL CAST, THE NAME WILL LAST, AND DINGLE WILL ENDURE.
CHORUS
© SLAUDEEN MARCH 2006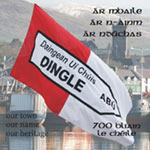 3 ways to purchase this CD:
Send 10.00 euro to info@dinglename.com
Buy at Dingle record shop (www.dinglerecordshop.com)
Buy at O'Flaherty's pub, Dingle.
All proceeds of the CD are going towards the cost of the plebiscite.
---


Click here to download a sample of this song
(2MB mp3)
---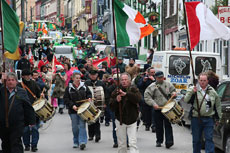 St Patrick's Day Parade 2006.
Picture courtesy Tom Fox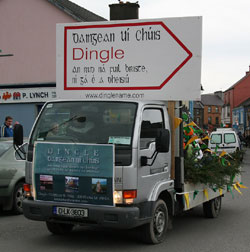 St Patrick's Day Parade 2006.
Picture courtesy Tom Fox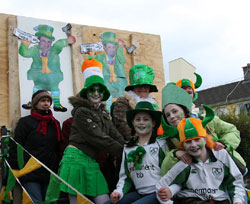 St Patrick's Day Parade 2006.
Picture courtesy Tom Fox